I love adding sparkle to my holiday decor. An easy way to do this is with metallic pieces—my sixth favorite holiday decorating item. Gold and silver (or any other metal) containers are great for filling with the other items on my favorite decorating items list

(fresh evergreens, ornaments, candles and lights, just to name a few)!

For a striking display, arrange a few different metallic pieces on a buffet or mantle and fill with similar items. The more the merrier; grouping items always creates a greater impact, so hit the attic and grab all of your grandmother's silver and get busy!

And, don't be afraid to mix metals.
(Sparkle, sparkle and more sparkle!)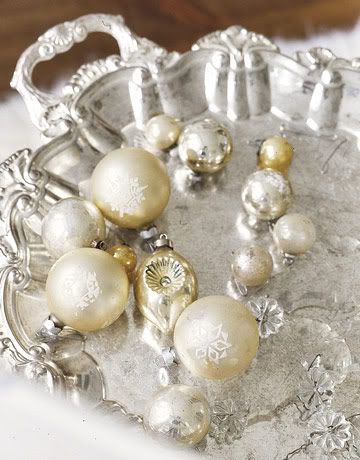 (A lovely tray with a few pretty metallic ornaments is so pretty)
(This mantle is designed by Kevin Reiner, the ornament, candy and fresh greens bring the holiday feeling to life.)
(More by Kevin Reiner — a detailed view of the silver pieces on the mantle.)
Visit again soon to see the rest of my "favorite 13" list!
Happy decorating.