Whether your color scheme is monochromatic, using all silver ornaments, or you like to use pretty pinks, blues and purples for your holiday decor, ornaments are a great way to show your style! Depending on what you pair them with, they are traditional, modern or playful.
(Three of my faves - ornaments, silver containers and and fresh greens)
This is a great way to enhance a kitchen window. The also works well with a large window. Hang a few ornaments from individual ribbons and attach them with tacks to the top of your moldings. Looks gr

eat outside and in. Vary the lengths of the ribbons to create an interesting display.
Try mixing textures and shapes of the same color to create even more interest with a monochromatic look.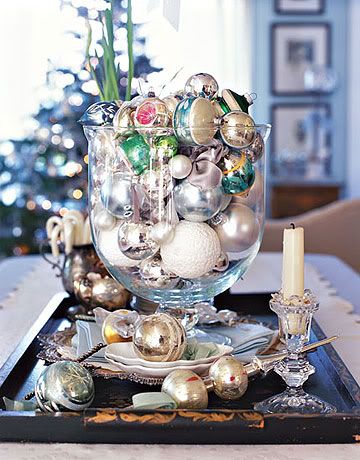 If you have a large glass container and many ornaments you have everything you need for a striking display!
I love the simplicity of this display. The glass dome adds height while only using a few ornaments.
A traditional look using ornaments in a lovely serving dish. Search you kitchen cabinets for your favorite bowls and platters and let them shine this season!