(sun filled family room, painted in Sherwin-Williams' Totally Tan, ceiling in SW's Interactive Cream)
I love a color challenge and this client, who was building a house on Lake Anna, VA, presented a great one. We selected colors for her then not-yet-complete house in her office in MD.
Ideally I'd make color selections in the house, but that's not always possible. Instead, we worked from photos of the construction, counter top and cabinet samples. We selected paint colors for 13 rooms during an almost 2 hour meeting. The fabulous results are shown here via photos sent from the client.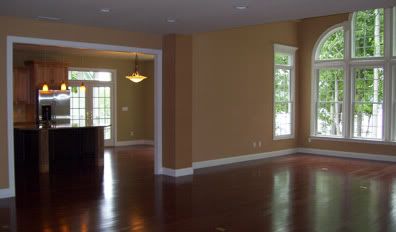 (family room into kitchen, painted in SW's Harmonic Tan, ceiling is SW's Netsuke)


(kitchen, painted in SW's Harmonic Tan,
ceiling is SW's Netsuke
)
We selected a warm color pallet and kept the colors soothing and neutral so the lovely outdoors could be the feature of each room. To keep the rooms feeling spacious and open, we painted the ceilings a lighter value than the wall color versus white.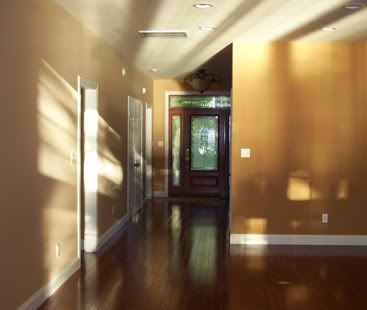 (from family room to entrance, the wall to the right is SW's Tatami Tan)
(lower level, with huge tray ceiling;
walls are in SW's Favorite Tan, the tray ceiling is painted with SW's Sawdust
and the remaining ceiling is SW's RIce Grain.)
There's a lot to love about this waterfront house, including the wall colors, which happily take a back seat to the fabulous views! If you are looking to create a whole-house color pallet you can save time and money by hiring an interior designer—even if done from a remote location.

Happy painting!