The details certainly make a difference when it comes to painting the rooms in your home. Most enthusiastic homeowners are happy to have found a color they love and get it on the wall, only to miss a few key details.
The overlooked details often stand out more than the lovely new paint and that's not really what you had in mind when you selected the perfect paint color, is it?
(designer William Powell's home, from Fall 2009 Home & Design magazine)
One thing that finishes a paint job is painting the underneath of the bulkheads in your room. The goal here is to eliminate strips of your ceiling color (often white) around your room. The unpainted "strips" break up your space and leave your room feeling incomplete. (See the beautiful brown room above; very complete!).
You'll also notice that the brown room has a painted vent and speaker cover. This prevents white "dots" from appearing around you newly painted room. You might also use vent covers with a metallic finish and coordinate them with your wall color (silver for grey rooms, bronze for brown walls). For rooms that have a decorative finish ask your painter to use the same finish on your covers.
Another often-overlooked spot is the inside your window frames. Frames set back into your wall (versus flush with your walls) should be painted your wall color. This completes your room's color and prevents your windows from being surrounded by white stripes.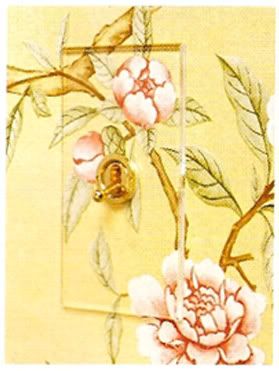 (Forbes & Lomaz's "invisible lightswitch," from Traditional Home Nov. 09 magazine)

Painting your light switch and outlet covers is another finishing detail you should not overlook. A warm, golden-colored room with 10 small white rectangles around it is not very visually appealing. If the covers are painted to match the wall color, or if coordinating decorative covers are used, your paint color, and not your boring white covers, will shine.
If your walls are covered in wall paper consider the Invisible Lightswitch (shown above; unfortunately, a lot of their switch cover products don't fit our traditional switches, but they have a fairly common outlet cover size).
Finally, if you repaint your walls don't forget your ceiling (consider using the same color as you walls or a lighter or darker shade of that color) and your baseboards and trim. A fresh coat of paint on your trim work will enhance the entire room (and cover any drips from the wall color)!
If you are going to all of the effort of painting a room (and it's work, whether you hire a professional or do it yourself) why not complete the job with the details that will show you knew what you were doing (even if you didn't). I'll never tell.
Happy decorating!