Some living rooms just cry out for layers, mixed patterns and intimate furniture arrangements...this shabby chic/Victorian living room is one of them!
This client had one sofa against the only wall in the room and the other facing it. Seems like a good idea, right? But the other half of the room wasn't being used and the focal point - the window, wasn't being showcased.
I began this redesign by pulling the sofa off the wall, so I'm sharing it with you for sofa placement inspiration! It can be hard to arrange furniture in the room when you have a bay window on one wall, a half wall on a 2nd, a large entry into a kitchen on the 3rd wall, leaving only one full wall.
(After, with only one wall in this living room, pulling the sofas off that wall made sense. We were able to layer tables and lighting to enhance the shabby chic look.)
(Corner, before)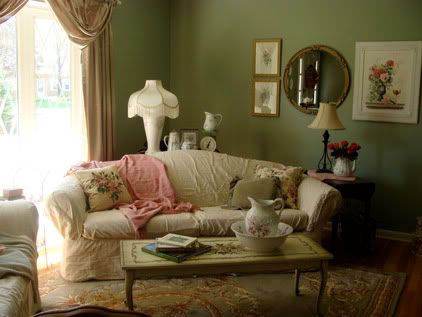 (Corner, after - by placing a wood table behind the sofa we were able to add light to that part of the room as well as showcase the client's collections. The long wall is now an art gallery.)
Sometimes you just have to think outside the box, or rectangle in this case, when it comes to sofa placement. Try pulling it off the wall and see what happens. I promise you can put it back! :)

Happy decorating!