I'm not sure why I'm combining bells & mirrors, but why not? My next two favorite holiday decorating items are bells & mirrors.
Bells are somewhat obvious with their jingle sound, but their shine and shape also appeal to me. My grandmother used to hang a garland of silver bells over a door way in her house and now I have that strand. I use it in different ways each year, but it always says "holiday" to me.
Here's an unusual take on bells for holiday decor, by designer Robert Rufino (as seen on housebeautiful.com).
(Paper wedding bells in red & white cover the banister, Robert Rufino designer)
Bells shaped as wreaths, star shapes or bowls filled with bells are other great ways to include this great decorating item.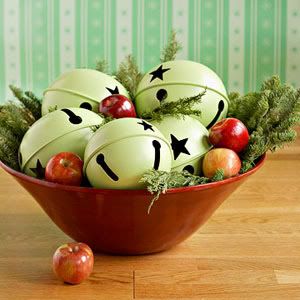 (Bells in bowl with greens, easy right? From bhg.com.)
I love mirrors for the same reason I love bells - the sparkle factor. When placed properly they reflect light and create shine. I love them used as trays to hold candles, silver and glass containers.
You can also embellish your existing mirrors by hanging swags or wreaths in front of them.
I have also used them as backdrops to fire place displays (when you are aren't using the fire place for fires!). I wish I had some photos of mirrors with holiday decor, but I don't! Maybe you do? Send any pictures my way and I'll post them!
Happy decorating and lucky number 13, my last favorite holiday decorating item is next! Stay tuned.