Just like the little black dress in the fashion world, a little black goes a long way in decorating.

I just added shiny black ribbons to dried corn cobs and dressed them up a bit — like a sequin top with your favorite jeans!


(fall decor with a little black ribbon makes a great impression)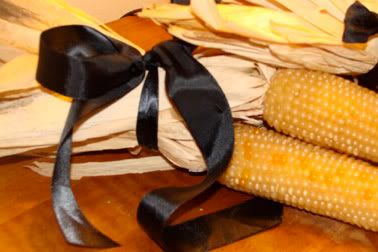 (a close up of the great contrast between the corn and ribbon)
I love finding ways to dress up traditional fall decor. Find containers, ribbons and colors that match your existing decor and use it to make fall items fit into your spaces. You can spray paint or embellish pumpkins (bronze metallic paint or sequins glued down the ridges) to dress them up and make them pretty.




Adding sparkly items (metal pieces, mirrors, glass or sequins) to "rough" fall leaves, pumpkins, wheat or tree branches provides great visual contrast. Whatever your decor style, the key to lovely displays is layering and varying textures and shapes.


Happy decorating!