I love men's dress clothes and the "science" behind putting the right suit, shirt and tie together. Even selecting the right color shirt to compliment your skin tone is a learned art.
There are the different suit jacket lapels and the number of buttons to consider. The variety of shirt collars can send your head spinning. The right tie knot with the right shirt makes the outfit and don't forget about mixing shirt and tie patterns (which I think is great fun).
I recently saw this page in the Lands' End catalog and believe it or not, it made me think about interior design.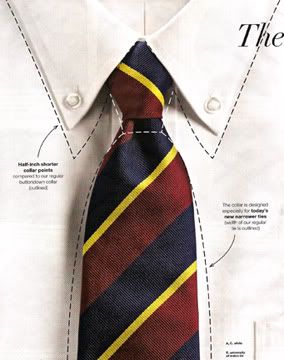 Per the catalog, "new Varsity collar. This brings back the shorter collar shape of the first Original Oxford. (Its collar points became longer over the years, to be proportional to wider ties and lapels.) Now, with narrow ties back in favor, it's time for a collar that works in perfect sync with them."
How does this tie into design? (Pun intended.) Proportion, proportion, proportion.
If you have a large scale sofa and chairs in your living room you need a coffee table that has some weight so it fits the proportion of the furnishings. If you have a large wall you need large art. A small, narrow wall needs small art. A large seating area needs a large area rug. A big table can hold a large lamp base with a big shade, whereas a skinny lamp will get lost in that same space.
In any kind of design proportion is a big factor in making or breaking great design. Take a look around you today—at all types of design and see what you see.
Now I have to run to the Lands' End department in the Columbia mall and check out the new shirt collars!