Pretty jewelry should be shown off and you should have beautiful art hanging in your bedroom. And, just like that you have jewelry as art!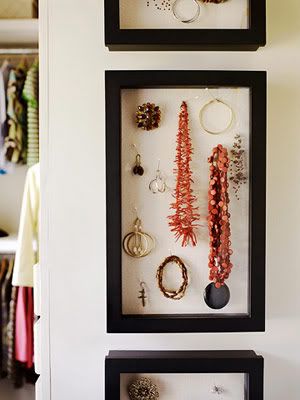 Framing art is a great idea. Pair similar frames in a row or vary the frames to create an eclectic look. Simply take the backing and glass out of a frame and you have an instant jewelry frame. Use pretty, long push pins to hang your art and you are all set!

Even better, as shown here, you can group like pieces together (creating color blocks) or put jewelry together as you might wear it. You can even play around with different set ups and that will instantly change your art and might help you create new jewelry pairings.

Love it!

Happy decorating.